FIRST ON FOX: House Majority Leader Steve Scalise, R-La., is confident the GOP-led immigration bill will get through the House and called on Democrats to support the measure, noting the vote will be watched by Americans across the country.
Scalise caught up with Fox News Digital last week where he touted the Secure the Border Act as a solution to the immigration crisis under President Biden ahead of the vote on his party's bill this Thursday
The legislation is already seeing strong backing by major immigration hawks, including the Heritage Foundation, FreedomWorks, and the Texas Public Policy Foundation, and will be brought to the floor the day Title 42 is set to expire.
IMMIGRATION HAWKS BACK 'FORCEFUL AND SERIOUS' GOP BORDER SECURITY PACKAGE
"The House Republicans have been working for months putting together a package of legislation to secure America's border and address the crisis that President Biden created," Scalise said.
"You know, going back to day one when Joe Biden took office, he ended the Remain in Mexico policy that was working well, he stopped construction of the wall," Scalise continued. "He made, in essence, a statement throughout the world that America's southern borders open."
"And the result has been millions of people flooding across our southern border, not just from South and Central America, but from over 140 different countries around the world," he added. "People on the terrorist watch list have been caught trying to cross our southern border. Those are just the ones we know of."
Scalise told Fox News Digital that the Republicans will pass the bill through the House and to the Senate "and continue to put pressure on President Biden and Senate Democrats to finally get off the sidelines and join us in working to secure America's border."
The House majority leader noted that some Democrats, such as Rep. Henry Cuellar of Texas, have been critical of Biden's border policies and that he wishes "every Democrat would vote for this bill" that Scalise says "actually fixes the problem."
"Obviously, I'm not expecting that to happen, but there ought to be a few that do," Scalise said. "We had four Democrats vote for the Lower Energy Costs Act. You know, there are a number of Democrats who don't like the policies of the Biden administration regarding the open southern border."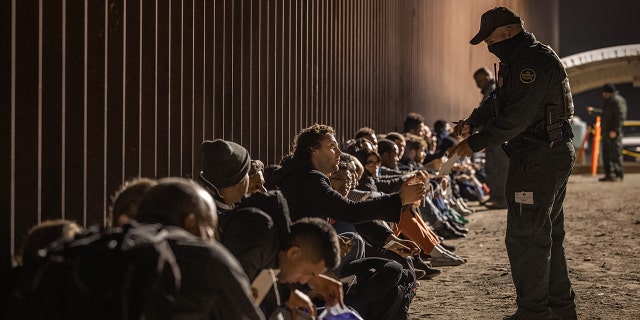 "But it's one thing to not like the policy; it's another to actually vote for a bill to fix the problem," Scalise continued. "So we're going to give everybody that opportunity."
"But I'll say this," the House majority leader added. "People all around the country are going to be watching this vote. This is going to be one of the more high-profile votes that Congress takes because people in every community of America are now being adversely affected by this border crisis."
Scalise noted that the crisis is "not just something that's limited to the border states" because the drug flow of fentanyl and other deadly narcotics is "a national crisis that's affecting every community in America."
"And people know that it's all the creation of Joe Biden's open border policies, and they're going to be watching this vote to secure the border," Scalise said. "And anybody who's not on the right side of that vote I think is going to pay a price when their voters hold them accountable in the elections next year."
The House GOP leader said that the Biden administration is "living in denial" about the border crisis and are "trying to act like the problem doesn't happen."
Scalise blasted the president, Vice President Kamala Harris, and Department of Homeland Security Secretary Alejandro Mayorkas for "not taking this problem seriously" and called it "a problem they created" as well as one they can end "today."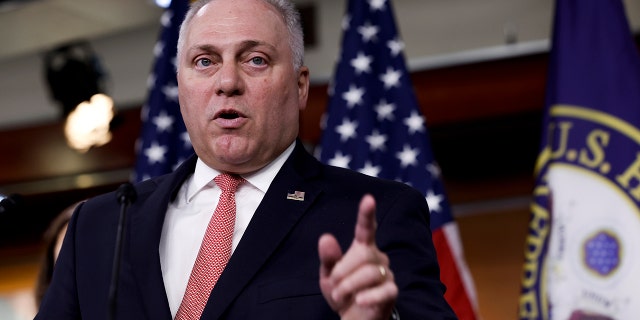 "They just don't want to fix this problem because they created it," Scalise said.
In terms of a Senate vote on the measure, Scalise noted that "there are a lot of people around the country watching this issue" and that there "are a number of senators that are up for re-election next year in tough races."
"And if they sit this out like Chuck Schumer's been, it's going to be hard to explain that back home," Scalise said. "Because I think there will be a lot of voters that say, 'how did you vote on the bill to secure America's border?'"
"And if you voted no, it's going to be really hard to explain back home when every community is seeing the devastating impacts of President Biden's open border," he continued.
Scalise noted the bill ends "catch and release" — calling it a "one of the biggest magnets, along with the abuse of the asylum process" — as well as equip Border Patrol agents to do their jobs effectively, such as with "more technology, better pay, [and] additional agents."
The Homeland Security package would restart border wall construction, increase the number of Border Patrol agents and limit the use of the controversial CBP One application. The bill also seeks to deal with a struggle to retain Border Patrol agents, who have seen a drop in morale under a crushing crisis at the border, by granting retention bonuses for agents.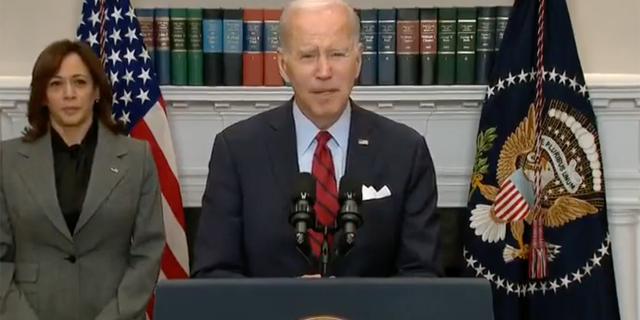 The combined legislation was introduced in a pro forma session on Tuesday by Rep. Mario Diaz-Balart, R-Fla. Original co-sponsors are Reps. Tom McClintock, R-Calif., Clay Higgins, R-La., Andy Biggs, R-Ariz, Nathaniel Moran, R-Texas, John Carter, R-Texas, and Ken Calvert, R-Calif. – along with Judiciary and Homeland Security Chairs Jim Jordan and Mark Green.
The immigration groups supporting the bill — which include the Heritage Foundation, NumbersUSA, Citizens for Renewing America, the Claremont Institute, the Federation for American Immigration Reform, Judicial Watch and Texans for Strong Borders — say that the proposals represent a "common-sense response to the chaos unleashed by the Biden Administration and would prevent further abuse of immigration laws to usher in even more mass illegal immigration."
Read the full article here