"Is Hamas a terrorist organization?" 
FOX News contributor and reporter Sara Carter asked pro-Palestinian protesters in New York City this question in a "Hannity" exclusive Thursday.
"No one would answer that question," she said. 
HAMAS FOUNDER'S SON SPEAKS OUT AGAINST TERROR GROUP AND ITS '7TH CENTURY MENTALITY'
The terrorist organization Hamas has run Gaza's government since canceling elections in 2006. They attacked Israel on Oct. 7, killing 1,200 people and taking over 200 hostages, according to the Israeli military. 
Israel subsequently declared war on Hamas, killing more than 11,000 people in Gaza since Oct. 7, with 40% of them being children, according to the Hamas-run Gaza Health Ministry. 
Protests have erupted over the conflict in New York City, throughout the U.S., and around the world. 
US FACES UNCERTAIN ROLE AS CONFLICTS, THREATS ARISE IN DIFFERENT CORNERS OF GLOBE
Carter interviewed counter-protesters in NYC holding photos of the Israeli hostages. One told her, "It's not about Palestine or Palestinians per se. It's about Hamas. And unfortunately, I would say most of these people cannot differentiate between the two." 
A pro-Palestinian protester told Carter, "We want the hostages to be safe, and we want Gaza to stop being bombed." 
Another responded to Carter's question by saying, "you don't get it."
SCANDAL-PLAGUED LIBERAL COLLEGE FACES NEW PROBE OVER ANTISEMITISM, EMBRACE OF HAMAS
A Jewish counter-protester told Carter, "I'm not scared. This is my city. This is my country. And they are not going to take it away from me," with Carter noting her position as being "very brave."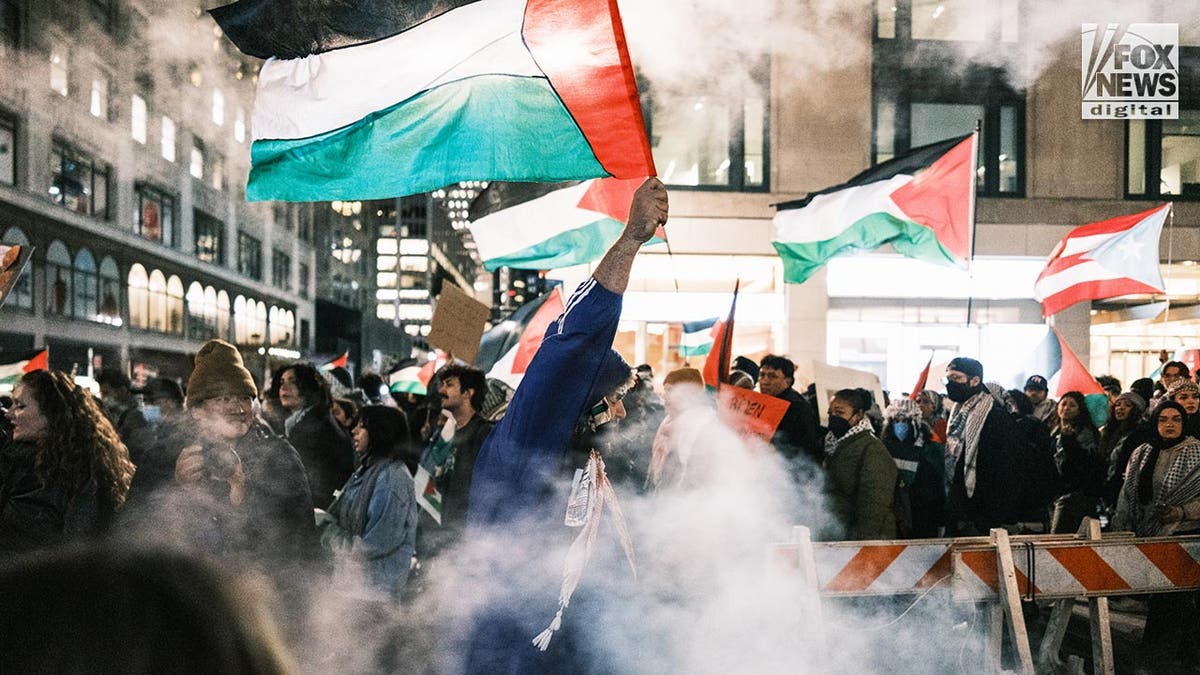 Carter told 'Hannity' she felt "intimidation" from some pro-Palestinian protesters as they chanted "shut her down" during her interviews.  
AFTER FAILING TO CONDEMN HAMAS TERROR GROUP, UN ADOPTS EIGHT RESOLUTIONS CONDEMNING JEWISH STATE
She said she has covered the wars in Afghanistan and Iraq, as well as the US-Mexico border, telling the FOX News host that, "in the blink of an eye," rallies can become "volatile and dangerous."
UCLA professor of political science Dov Waxman joined "FOX News Live" Saturday, saying that the protests in U.S. cities and on college campuses can support Palestinians without supporting terrorism. 
He said, however, that many people confuse the two. 
"They certainly don't have a sophisticated view of the conflict," Waxman told co-host Eric Shawn. "They don't really have an understanding of the history of this conflict. Many believe it began with the Israeli occupation of the West Bank in Gaza, not knowing that it actually long predates that. They don't really know about Hamas as a terrorist organization, or what Hamas seeks to do."
"Sometimes, there's a kind of confusion in these protests as to what exactly they're calling for – are they signaling their support for Hamas, or are they really signaling their support for the Palestinian cause at large?"
CLICK TO GET THE FOX NEWS APP
FOX News' Landon Mion contributed to this report.
For more Culture, Media, Education, Opinion and channel coverage, visit foxnews.com/media.
Read the full article here