Martha's Vineyard, in Edgartown, Massachusetts, would not volunteer to shelter illegal migrants in the aftermath of Title 42's expiration, as other East Coast cities like New York have resorted to using elementary schools to shelter migrants after facing severe overcrowding.
Fox News Digital asked several city officials if they would consider housing illegal immigrants to aid Democrat-run cities such as Chicago or New York, which are struggling to shelter tens of thousands of migrants, but none of them responded.
In September, Gov. Ron DeSantis, R-Fla., sent two planes carrying 50 illegal immigrants from Florida to the island in an effort to force left-wing eastern states like Massachusetts to bare the same responsibilities as those near the border.
MIGRANTS' ATTORNEYS WANT LAWSUIT AGAINST RON DESANTIS OVER MARTHA'S VINEYARD FLIGHTS TO STAY IN MASSACHUSETTS
The high-priced getaway declared a "humanitarian crisis" after the drop-off of the 50 migrants, and they were all removed within 44 hours, meanwhile New York City has dealt with at least 60,000 migrants for several months.
CHICAGO DEM CALLS OUT CITY'S MISHANDLING OF MIGRANT CRISIS, URGES FOR CRIME CRACKDOWN AHEAD OF 2024 CONVENTION
Among those who did not respond were CEO of nonprofit Martha's Vineyard Community Services Elizabeth Folcarelli, head of Human Resources at Martha's Vineyard Community Services Jamey Smith, Island Housing Planner Laura Silber, and Executive Director of Martha's Vineyard Community Adam Turner.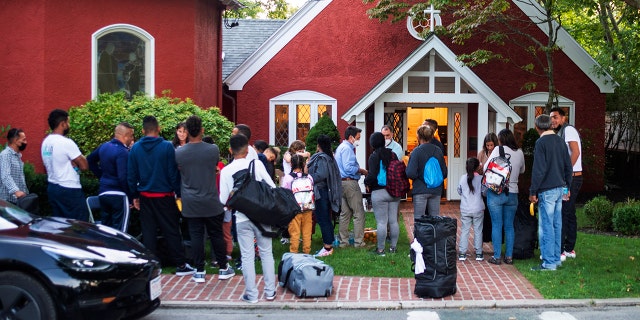 About 55.5% of the property on Martha's Vineyard is used for vacation, however, during the September "crisis" nobody offered to house the homeless migrants.
Fox News' Kerry J. Byrne contributed to this report.
Read the full article here