Happy Wednesday, everyone!
So the COVID-19 public health emergency officially ends tomorrow. I can finally stop washing my hands, but how about the polio scare? Is that still in play? Isn't that typical of government, 750 days late and a trillion dollars short. But it's a huge relief for New Yorkers, we can return to wearing masks just to block the smell of urine. Still, for the most of us, that stuff ended a long time ago when we decided to stop living in fear and get back to doing the things that we love. But the end of the emergency also brings with it the end of Title 42. No, not Level 42.
MUSIC VIDEO
They're right up there with the beetles, the insects. But Title 42 allowed us to deport migrants caught crossing the border and deny them asylum for public health reasons, as if letting millions of unvetted foreigners pour into your backyard isn't already a threat to your health. It is amazing the concern for their COVID status. That's what it was for. Not fentanyl poisonings or sex trafficking or gang shootings, but those who got booted didn't face any charges, so they just tried again. But now that policy ends and everyone's bracing for thousands more migrants. 
BIDEN ADMIN TALKS 'TOUGHER' ON BORDER AHEAD OF TITLE 42'S END — BUT MIGRANTS AREN'T LISTENING
You know, migrants used to mean people that were passing through. Now they're harder to remove than Dianne Feinstein. Yeah. Tell me about it. She's been staying with me for months. I wonder if it remains to be seen as if it's going to be chaotic for a while.
PRESIDENT BIDEN MAY, 2023: So, it remains to be seen. It's going to be chaotic for a while.
Thank you, Captain Obvious. I'm pretty sure his visiting angel was holding cue cards. Visiting angels, I love that song. But does it matter at this point? America's expectations for Biden are lower than his testicles. So what's the administration planning to do besides letting the men use women's bathrooms? Well, Biden has finalized new plans to actually ramp up deportations and require migrants to request refugee status in another country before crossing into the U.S. and those who don't are liable to be deported and banished for five years. Now, doesn't that sound a bit familiar? Yeah, it's like Trump's policy, which was struck down in federal court, and it was one that Biden dragged him for at the time. The Dems called it racist, cruel and unnecessary, of course, now it's called their approach. Right, you jug eared freak face.
SECRETARY ALEJANDRO MAYORKAS MAY, 2023: We are taking this approach within the constraints of a broken immigration system that Congress has not fixed for more than two decades. And without the resources we need personnel, facilities, transportation, and others that we have requested of Congress and that we were not given.
BORDER PATROL CLEARS WAY FOR MORE MIGRANT RELEASES TO CITY STREETS, SOURCES SAY
Who knew a pimple could talk? But do you know how much of a disaster it must be for the Biden administration to start using that big, bad, orange, racist man's policies? So why stop there? Why not just get cracking on building the wall then. Joe can hire the guys who built the one around his beach house and the one between Hunter and his baby mama. Because we know the border is still a disaster.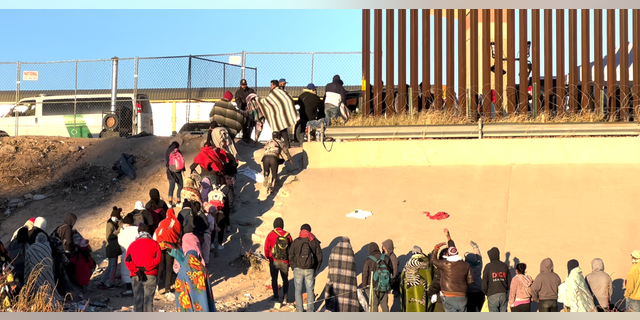 Border Patrol averaged 8,700 daily migrant apprehensions over a recent three-day period or as KJP would say, zero. Hundreds of thousands are camped out at the border, waiting for the right moment to cross. I should have bought stock in tents instead of Alec Baldwin's next Western. Too soon or not soon enough? Hell, it's going to look like the beginning of the New York City Marathon when the starter pistol is fired, thousands and thousands of young men elbowing each other for better position, but enough about the women's race. Yeah! The Guatemalan president told a Texas congressman that 80,000 migrants from Venezuela are headed to the U.S. and the scary part is, they're in a total of 11 vans. He called the White House about it, but it went straight into voicemail. Perhaps they were too busy putting classified documents in Biden's cage in case he pees. 
But at least it's not just border states who bear the weight of the problem, right? Democrat mayors are dreading the many more buses of migrants to their sanctuary cities. For once, reality calls out there are empty promises and I love it. Apparently, Manhattan may close large sections of city streets for temporary housing. They'll be halting traffic to help human traffic. The reason? Streets provide access to water, sewer and electricity, as well as modular prefabricated housing. Holy —-. If only they did that for the homeless, Kilmeade wouldn't be sleeping on my couch. 
MAYORKAS PLEADS WITH MIGRANTS NOT TO ENTER US ILLEGALLY WHEN TITLE 42 ENDS
The CEO of a tiny home manufacturer says he may be supplying the units, 420 square feet, two bedroom foldable units that can be deployed on site. In New York that's considered a castle. Officials are also considering cruise ships. I hope Joe Mackie is the ship's comedian, they'll be fleeing back home in no time. The city also wants to bus migrants to the 'burbs. So now those counties are declaring a state of emergency or even worse, a state of California. So it turns out solving America's homeless crisis by adding millions of new homeless was a bad idea. But now that the crisis impacts everyone, everyone's waking up, perhaps even very sleepy, Joe. But he's got that wall around his house, so why should he care? Right, Joe?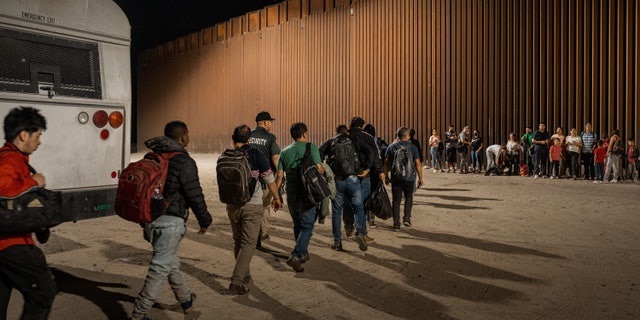 TOM SHILLUE AS JOE BIDEN: No, no, no. Don't you dare compare me to the guy who came before me. I'm my own man. I got my own ideas, but it's just they're not sending their best. They're bringing drugs. They're bringing crime. They're rapists. And some, I assume, are good people. I have a good brain. I use the best words. I like people who weren't captured and when the hell are we going to see Obama's birth certificate?
Read the full article here