The New York Knicks narrowly escaped Game 2 with a victory against the Jimmy Butler-less Miami Heat on Tuesday night, but fans of the NBA cried foul.
With about 3:06 to go in the game and the Knicks up three points, the Heat were scrambling to get a shot off as the shot clock winded down. Caleb Martin put up a last-second heave and after the miss, officials stopped the ball and called a shot clock violation. 
Gabe Vincent argued the ball had hit the rim, and he cleaned up the missed shot and scored an easy layup. Still, the officials considered it a turnover and gave the ball to the Knicks. A replay on the broadcast showed that the ball did, indeed, hit the rim and the referees missed the call.
Basketball fans were far from happy.
KNICKS TAKE ADVANTAGE OF JIMMY BUTLER'S ABSENCE, BEAT HEAT TO EVEN SERIES IN GAME 2
The score would have cut the lead down to two points. On the next possession, Jalen Brunson hit a floater to increase the Knicks' lead to five points. Miami would get the deficit down to one point with 1:58 remaining, but the Knicks were just too tough down the stretch.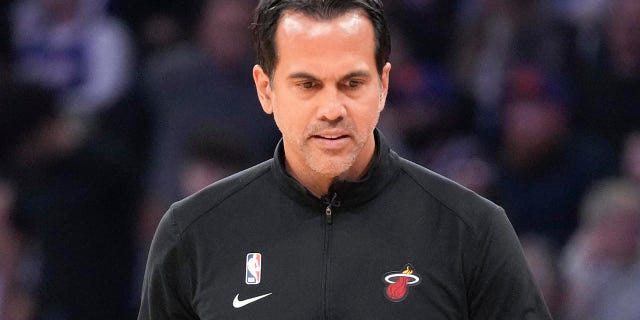 New York won the game 111-105 to even the series at one game apiece.
Martin led the Heat with 22 points and eight rebounds. Vincent added 21 points and five assists. Max Strus had 17 points and Bam Adebayo had 15 points.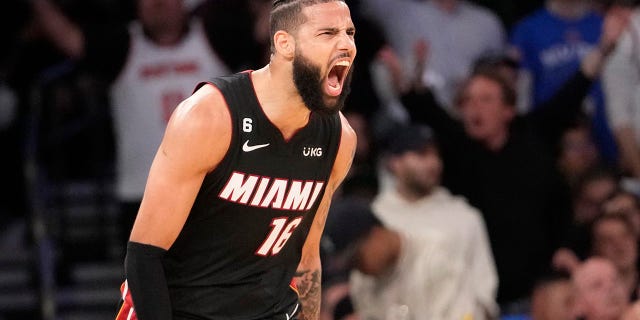 Game 3 is set for Saturday back in Miami.
Read the full article here