The South Carolina court clerk at the center of Alex Murdaugh's bid for a new murder trial broke her silence in a statement filed by prosecutors Tuesday and denied she tried to sway jurors toward a swift conviction.
"I did not tell the jury 'not to be fooled' by evidence presented by Mr. Murdaugh's attorneys," she wrote in an affidavit responding to explosive claims made by the defense team. 
"I did not instruct the jury to 'watch him closely.' I did not instruct the jury to 'look at his actions.' I did not instruct the jury to 'look at his movements.' I did not say to the jury, 'This shouldn't take us long.'"
Hill further denied conversing with jurors about the case or preventing them from taking smoke breaks until they had wrapped up deliberations. 
ALEX MURDAUGH'S LAWYERS ASK SOUTH CAROLINA SUPREME COURT TO KICK JUDGE OFF MURDER CASE
In the three-page affidavit that denies 26 separate allegations, the Colleton County court clerk wrote that she did not fabricate a Facebook post to get an undecided juror booted from the panel. 
"Indeed, the machinations alleged do not even begin to make sense," Deputy Attorney General Creighton Waters wrote in the filing. "Only Alex Murdaugh could conceive of such a confounded gambit as even remotely plausible, and he is projecting his own calculating, manipulative psyche onto a dedicated public servant in an effort to save himself."
WATCH: ALEX MURDAUGH'S SURVIVING SON SPEAKS OUT IN FOX NATION EXCLUSIVE
Defense lawyers Dick Harpootlian and Jim Griffin accused Hill in their motion for a new trial of pressuring jurors to reach a swift guilty verdict so she could secure a book deal. 
It took jurors less than three hours to convict Murdaugh, 55, on all counts for gunning down his wife, Maggie, and his son, Paul, in June 2021. He was sentenced March 3 to two life terms in prison.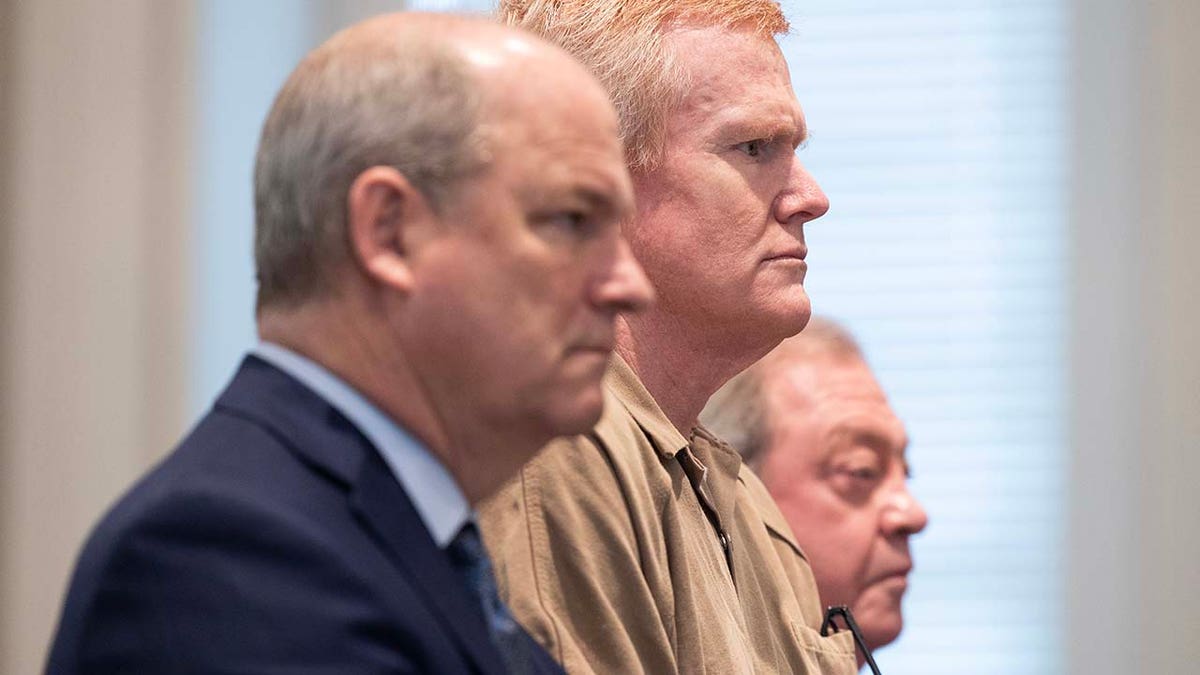 The South Carolina Attorney General's Office, which prosecuted the case, asked a judge to deny Murdaugh's motion for a hearing on a new trial based on four jurors' allegations of misconduct by Hill.
Murdaugh's lawyers cited affidavits from Juror No. 630, who deliberated; Juror No. 785, who was removed from the panel for discussing the case; and a defense paralegal who memorialized statements from jurors 741 and 326. 
BUSTER MURDAUGH SAYS HIS FATHER ALEX HAS CHARACTERISTICS OF A PSYCHOPATH BUT MAINTAINS HIS DAD IS INNOCENT 
The prosecution filing noted a curious twist: Juror No. 630 happens to be Juror No. 785's tenant.
Even if the defense's accusations are true, the prosecutor argued, none of the jurors who deliberated alleged their verdict was based on pressure from Hill.
If the court agrees to grant a hearing on a new trial, Waters wrote that the state would prove the "allegations to be unfounded and not credible."
Agents with the South Carolina Law Enforcement Division (SLED) interviewed most of the jurors but not the landlord-tenant duo who provided affidavits directly to the defense. 
None of those interviewed by SLED corroborated the tampering claims, according to the filing. In addition, four court staffers also provided statements denying that Hill had inappropriate conversations with jurors. 
Waters did not address Hill's memoir, "Behind the Doors of Justice: The Murdaugh Murders," which was released Aug. 1. 
READ BECKY HILL'S AFFIDAVIT AND THE PROSECUTION'S MOTION ARGUING THAT MURDAUGH DOESN'T DESERVE A NEW TRIAL
The defense argued in its motion that the book and Hill's numerous media appearances had rankled several jurors, prompting them to come forward.
Hill's attorney, Justin Bamberg, released a statement Tuesday. 
"We have fully respected the investigatory process, which has been tough given the horrible things said about Mrs. Hill on Alex Murdaugh's behalf," he said. "However, you can put to bed any allegation that Mrs. Hill tampered. You can also put to bed any allegation that she's going to be charged criminally."
Read the full article here