A new viral food trend is leading candy lovers to shake their Airheads because the action reportedly gives the chewy taffy a new shape and taste.
The technique has been practiced and passed down by Airheads fans for over three decades, but now it has gone mainstream thanks to TikTok.
Jordan Howlett, a self-employed social media director who frequently shares fast food secrets, is one of the many TikTok content creators who have tested the candy hack for his millions of followers.
PEZ CANDY DEBUNKS TIKTOK VIDEO WHILE REVEALING 'PROPER WAY' TO LOAD PEZ DISPENSER
The food-loving San Diego resident told Fox News Digital that he saw the transformative Airheads technique shared by the DJ duo Party Shirt on Sunday, May 7, which restitched the 2021 Airheads hack video made by social media influencer Kyran Nijjar.
Howlett, like many others, has branded the Airheads-shaking hack to be the "right way" to eat the fruit taffy.
"I have been eating Airheads incorrectly for the past 20 years," Howlett said in his video on Sunday. "Airheads are like this, right? They're flat on the surface, but apparently, you're supposed to shake the Airheads before opening them, so that they end up tiny – like little cubes – because it makes the flavor just a bit different."
Howlett presented an Airheads White Mystery Bar and noted that candy enthusiasts have said manipulating the shape of this particular taffy variety completely changes flavor.
He tested the hack for his 9.6 million followers and shook the Airheads White Mystery Bar until it shrunk to the bottom of the wrapper.
'SQUID GAME' VIEWERS START DALGONA CANDY CHALLENGE ON TIKTOK, HERE'S HOW YOU CAN MAKE IT AT HOME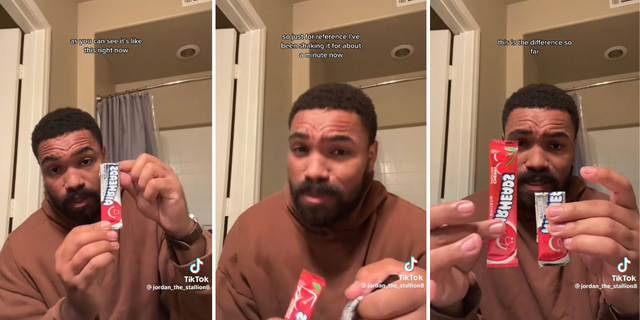 Doing so took Howlett a few minutes – so at-home candy testers should exercise patience.
Howlett demonstrated that the white mystery taffy folded down into a cube-like shape before he took a bite on-camera. 
"The flavor tastes different," he confirmed in his video, which has been viewed more than 12.5 million times.
The video has gone on to receive over 1.2 million likes, 338,200 shares, 86,500 saves and 17,000 comments.
M&M'S ADDS NEW PURPLE CANDY CHARACTER TO REPRESENT 'ACCEPTANCE AND INCLUSIVITY' 
It appears that many of Howlett's TikTok followers were unaware that Airheads Bars could be shaken into a new shape before consumption.
"So you're NOT supposed to just shove the whole thing in like a food ruler and chew it?" one commenter questioned.
"Thanks a lot now I have to get up [and] go buy Airheads in the middle of the night," another TikTok user wrote.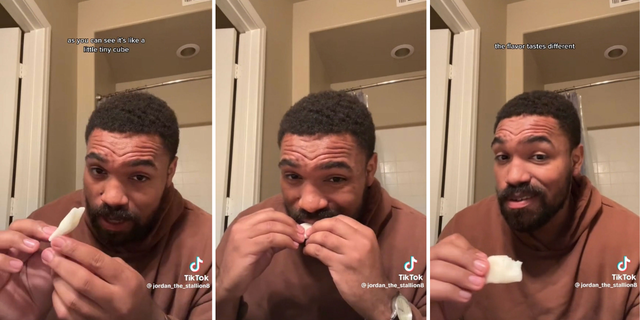 "Wait what?! I never knew that, I been eating them wrong the whole time," another user wrote. "I love Airheads."
AMERICA'S HALLOWEEN CANDY PREFERENCES IDENTIFIED STATE-BY-STATE: REPORT
Some commenters weren't surprised by the hack and claimed they used to practice it as children.
"I'm 33 and remember doing this in middle school," one TikTok user wrote. "My math teacher 'banned' them because everyone would be shaking them."
"We used to do this all the time. But [I] haven't eaten an Airhead since 1998," another TikTok user shared.
Other commenters wrote that they'll ignore the suggestion and will proceed to eat Airhead Bars straight out of the wrapper because the shake method seems to be too much work for their liking.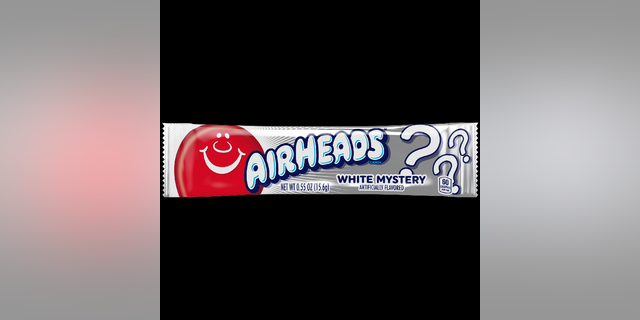 Several others questioned why Airheads –which is owned by Dutch-Italian candy maker Perfetti Van Melle – hasn't advertised the method on its packaging if it's really supposed to be the "correct way" to eat the taffy bars, as many have suggested it is.
"If you know, you know," Perfetti Van Melle Spokesperson Holly Ingram told Fox News Digital on Wednesday, May 10.
"We've had so many fans of Airheads for so many years. That's something people have been doing for years," Ingram continued. "It's really a way that our fans have had fun with Airheads Bars. We're glad and we're really happy to see people having a lot of fun with it."
Perfetti Van Melle has also been having fun with the attention it has received on social media with the official Airheads Candy Twitter account directing customer inquiries to its Instagram and TikTok accounts. 
The brand has officially launched an online challenge with Howlett's video as the kickoff. 
"Post a video of how quickly you can shake down an Airheads bar! Use #AirheadsChallenge," the brand wrote on TikTok.
The #AirheadsChallenge hashtag has generated over 5.7 million views in the last week while the #Airheads hashtag has generated over 267.7 million views in the last three years, according to TikTok analytics data.
While the online challenge doesn't require social media users to work with the brand's White Mystery Flavor Bars, Perfetti Van Melle has acknowledged that its secret taffy flavor has a unique taste because it's made from a mix of leftover taffies from unfinished batches.
Airheads have been in production since 1985 and were created by product developer Steve Bruner. The brand has 16 flavor varieties. It's currently sold in North America and the U.K.
Read the full article here