Updated 09/22/2023
When legislation or preferences steer a shooter away from a semi-auto carbine, it's time to go with Plan B: The tactical lever-action rifle.
What Are Top Tactical Lever-Actions:
I live in one of those onerous corners of America, where the boot heel of tyranny has attempted to exert pressure. In short, my particular municipality took a crack at banning a host of firearms. This included, of course, the venerable AR-15 among other semi-auto carbines.
Thankfully, the law was eventually rebuked by the state supreme court, but the situation did get me thinking … The times being what they are, what's a passable stand-in for a semi-auto carbine? Not exactly the thought experiment most want to conduct, but an unfortunate one many citizens must ponder or at least should perchance the inmates ever end up running their particular asylum.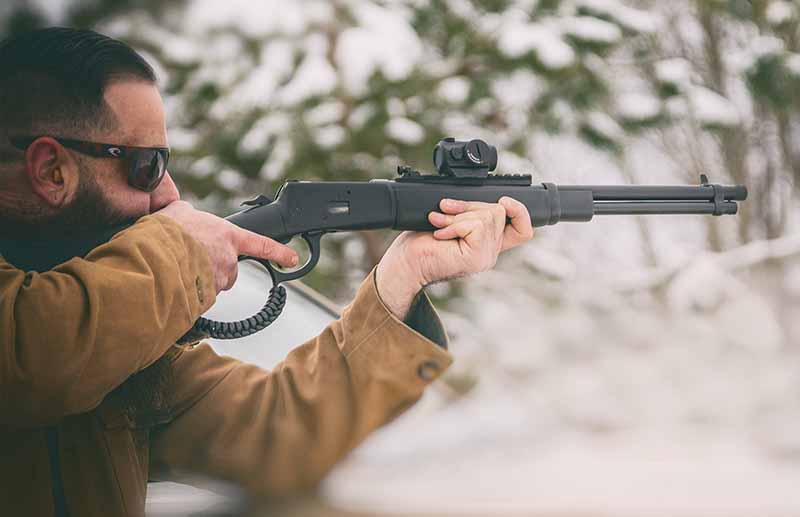 As chances have it, some gunmakers appear sensitive to this very question and, for all intents and purposes, have concocted a workable solution. Here, I speak of the tactical lever-action.
By no means are the systems a one-for-one analog of an AR, AK or any other semi-auto, but the quintessentially American gun has proven itself time and again. Crack open a history book concerning the nation's westward expansion, and the examples are rife—from the legendary Winchester 1873 taming the frontier to the Marlin 1894 opening up the vast Alaskan backcountry.
These are as carbine hard as the men who used them living off the land as they were fending the back forty. Quite a résumé! And they've only grown better with time. In their present modernized form, the lever-gun is equally as adept an instrument for guarding the suburban homestead as they are a do-anything option for tackling the apocalypse.
Tactical Lever-gun breakdown
There's no hard and fast rule on what constitutes a tactical lever-action. Certainly, many write them off as merely polymer-stocked iterations of the originals. True, some wear plastic, but not all. And really, there are some nuances to what's offered, besides dark finishes and ominous names, such as "Dark Series" (Marlin) and "Model X" (Henry).
To the quick of the matter, tactical lever guns are generally modernization efforts, retaining the heart of the carbine—receiver, etc.—and offering more utility. In particular, it's usually found with the combination of these four features:
Accessory Mounting: Much like AR-style rifles, Picatinny rails and M-Lok slots make adding a useful accessory such as a weapon light easy.
Threaded Muzzle: For a gun meant to defend in close quarters, the option to attach a suppressor without the aid of a gunsmith is welcome.
Sighting Systems: Many, if not most, offer faster-target acquisition systems out of the box, such as ghost ring aperture, as well as rail systems more conducive to attaching modern optics.
Aftermarket Support: Accessory manufacturers have also noted the trend of tactical lever-actions and offer a wealth of upgrades to tailor them to particular applications.
By no means do these modest improvements completely reinvent the wheel. There was no need to. Despite more than 150 years old in concept (at least in its modern form), the system still proves among the most versatile and fastest available today. At the same tick, these features enhance the already solid firearms, better tailoring them to modern tastes and applications.
So don't fret if your predilections or local laws run counter to semi-auto currents. The tactical lever-action more than holds its own in today's rough-and-tumble world. Here are six I've found that particularly excel in the role.
Best Tactical Lever-Action Rifles
Rossi Polymer Rio Bravo .22 LR

MSRP: $359.99 | RossiUSA.com
Honestly, you needn't have a tactical bent to go with this Rossi. Snappy and responsive, the polymer Rio is like most .22 LRs—just plain fun and difficult not to love. It's got a lot going for it beyond enjoyment, making it a candidate for a bug-out gun or a home-defense option nearly anyone in the family can wield effectively.
Among the most noteworthy, its ample 15-round tubular magazine gives the 5-pound rifle plenty of firepower. Outside of foreign invasion, it should prove to have enough on tap to face down most circumstances. Though, I confess the addition of a side-loading gate would improve peace of mind. As for the stock, it's a very simple polymer affair that doesn't stray too far off the reservation. The exception being the six M-Lok slots—three on each side—on the front of the fore. They're well placed, near the top and just the right position to intuitively operate a light, no matter if you're right- or left-handed.
Sights are fiber-optic three-dot, green in the rear and red upfront—very basic, but familiar to most shooters and eye-catching in all but low-light conditions. The front is shrouded so you don't bust the pipe, and the rear is fully adjustable for windage and elevation—nice, large and tactile knobs, too. This, however, leads to the 18-inch barreled lever-action's shortcomings: no optics mount of any kind and no threaded muzzle. Hopefully, Rossi thinks about adding these features in the future. They have a nifty and practical gun now but would have the complete package with those enhancements.
---
Raise Your Lever-Action IQ:
---
Henry Model X Big Boy .45 Colt
MSRP: $1,091 | HenryUSA.com
Among the most popular of Henry's rifles, the pistol-caliber carbine succeeds wildly in the company's polymer-stock Model X line. Light and responsive, the rifle sings in the right hands and is as dependable as the day is long. While I have an affinity for carbines chambered .357 Magnum/.38 Special, and the Big Boy is available in .44 Magnum/Special, shooters are well served in considering the Big Boy in .45 Colt. The gun digests spicy hunting loads, giving it plenty of hitting power and versatility—it's a particularly apt survival option with brush-gun chops.
Especially welcome on the 17.4-inch barreled rifle (it's threaded, mind you) is a well-thought-out polymer forend, staying true to the Big Boy's feel while improving its utility. To this, I point out the section of Picatinny rail below the forend and the M-Lok slots at the 3 and 6 o'clock positions just above the rail. Further back, Henry opting for a pistol-style grip (as opposed to the original's straight grip) is appreciated and adds a level of control to the rifle—as does the company adding a side-loading gate for fast reloads. Its 7+1 capacity is ample for most circumstances, but it doesn't hurt to have a backup to keep it in the fight.
About the only bone to pick is Henry opting for drilling and tapping the receiver; many shooters might've felt better served with an optics rail. Given it's a side ejector, it would've worked like a beauty. Though, that's no dealbreaker, since you can add the asset at home. As an aside, Henry also offers Model X .45-70 and .30-30 options, if those are better suited to your circumstances.
Marlin Dark Series 1894

MSRP: N/A | MarlinFirearms.com
Again, there's a decision point with the Dark Series, given the Model 336, 1895 and 1894 are all available. Tough choice. Personally, it's not difficult for me to opt for the '94 chambered in .357 Magnum, which in my opinion creates a jack-of-all-trades carbine. Not only does this give you an option of complementing it with a similarly chambered revolver as an SHTF bug-out system, but the .357 is dazzling out of a long gun. Hunting, defense, survival—it should cover all bases.
The 1894 is as solid as they come, thanks to a forged receiver that's as tough as cut nails and a side-ejection system renowned for its ability to run in any condition. Marlin improves on the heart of the 8+1 capacity carbine with an excellent sighting/optics mounting system: the XS Sights Lever Rail. It's slick. The Picatinny rail to mount an optic boasts a built-in ghost ring rear aperture that works in conjunction with a ramp front sight. Not only does it add a solid backup system to get the '94 on target, but it's lightning-fast and of itself. A fitting aiming solution on the terse 16.25-inch barreled rifle. And yes, the barrel is threaded.
Overall, I'm not a fan of the larger lever loop with paracord wrap, which seems like more sizzle and less steak. The Marlin is also sans any accessory attachment points (rectifiable with aftermarket upgrades). And it wears wood furniture, finished with waterproof paint. But these are somewhat minor points, given the rifle's overall stellar record.
Now, of course, what is described here is the Dark Series 1894 of the Remington Marlin—a thing of the past. Ruger now at the reigns of the historic brand, we'll have to see what the future holds for the 1894 and the Dark Series both. However, the iconic riflemaker's new owners recently (as of January 2022) unveiling its first crack at the advancing a Marlin—the 1895. If that's a bellwether of what's to come, the prospects of a solid tactical lever-action appear strong. Until then, this model is only available on the secondhand market.
Taylor & Co. 1892 Alaskan Black Takedown .44 Magnum
MSRP: $1,636.08 | TaylorsFirearms.com
Up front, I'll say this rifle misses a few key tactical features: threaded muzzle and accessory-attachment points. However, it makes up for these shortcomings with one notable asset. It's a takedown. Some might pick nits with the concept, but I still contend it's a worthwhile way to make a long-gun more accessible away from home—be it stowed in your pickup or backpack.
In this case, again I prefer the .357 Magnum/.38 Special version, but some might find the .44 Magnum/.44 Special iteration more suitable. In either case, the Alaskan breaks down to a tidy 17-inch package. And at roughly 6 pounds empty, it isn't much of a burden. That's surprising, because the rifle has a thick octagon barrel and is stocked in wood with a rubber overmolding. Chiappa, the manufacturer, obviously could've cut a few ounces with polymer furniture, but the touch more heft feels right in this particular style of rifle.
A Winchester '92 clone, it spits spent cases out the top. While not the best system to run an optic on, Chiappa avoids conflict on this front by moving the Weaver-style optics rail forward, scout-rifle style. The rail also includes the rear section of the iron sights system, a Skinner adjustable rear peep with an ample aperture, giving it a function much along the lines of a ghost ring. Enhanced by a bright red fiber-optic front, it's quick to the target in a pinch, but more than capable of holding on a distant shot.
The lever loop is larger than I prefer, but not Hollywood by any stretch. Get comfortable running it, and you can chew through the 7-round tubular magazine in a wink. Yeah, the Alaskan might miss on a few points, but overall, the rifle works as a tactical option.
Rossi R92 Triple Black .357 Magnum
MSRP: $1,060.99 | RossiUSA.com
Like the Rio, the R92 Triple Black is just off the mark in some respects. But overall, for the right application, is a solid option. The R92 is a proven line of Winchester '92 clones that offer a good mix of quality and affordability. With the Triple Black, the Brazilian manufacturer tweaks the formula with some well-thought-out upgrades, while keeping the rifle tied to its roots. I made my preference of .357 Magnum clear earlier, and, despite a .44 Magnum option, I again contend shooters are better served with the smaller caliber unless they're buying a dedicated hunter.
Perhaps my favorite aspect of the rifle is the integrated Picatinny rail/rear sighting system. Rossi opts for a peep rear with a relatively large aperture in conjunction with a large blade front, making it quite useful where nimbleness is at a premium. But most, I imagine, would take advantage of the rail and a 1x optic or multi-powered scope—both are apt for the 16.5-inch barrel gun. The gunmaker also doesn't run afoul of the top-ejection port, moving this system well forward.
Lever-actions, particularly pistol-caliber models, are well served with a suppressor and the Triple Black is threaded for action. Until you mount yours, the rifle comes with a factory-installed knurled thread protector. However, and this is odd, the 8+1 rifle doesn't have any accessory attachment points, which perhaps makes it better suited as a bug-out gun, rather than a home-defense specialist. That and the grip and loop, at least for me, leave something to be desired. Rossi kept the same stock design as its hardwood R92, straight; and the company couldn't resist running a larger lever loop. Though, admittedly, it looks nice.
Bond Arms LVRB
MSRP: $1,500 (Estimated) | BondArms.com
This entry is here as an honorable mention as the Bond Arms LVRB is yet to be released. First unveiled at SHOT Show 2023 and anticipated to become available sometime in Q1 of 2024, if proven to be a good design, this will likely become the ultimate tactical lever-action rifle on the market.
Why? Primarily because it will feed from standard AR-15 mags and will be compatible with standard AR uppers, handguards and other components. It will initially be released with a .223/5.56 upper, but the company has .300 BLK, 9mm, .450 Bushmaster and even 12.7×42 in the works as well. The stock can also be replaced with Remington 870-pattern options. While this model is certainly the greatest departure from traditional lever-action designs, it's arguably the most tactical as well. Keep an eye out for its release if you're interested in what is essentially a true lever-action AR-15.
Editor's Note: This is an updated version of an article that originally appeared in the American-Made 2021 special issue of Gun Digest the Magazine.
---
NEXT STEP: Download Your Free Storm Tactical Printable Target Pack
62 Printable MOA Targets with DOT Drills – Rifle Range in YARDS This impressive target pack from our friends at Storm Tactical contains 62 printable targets for rifle and handgun range use. Target grids and bullseye sizes are in MOA. Ideal for long-range shooting!
Subscribe to the Gun Digest email newsletter and we'll send your print-at-home target pack right away. Just enter your email address below.
---
Read the full article here